SPECIAL AFFILIATE PRICING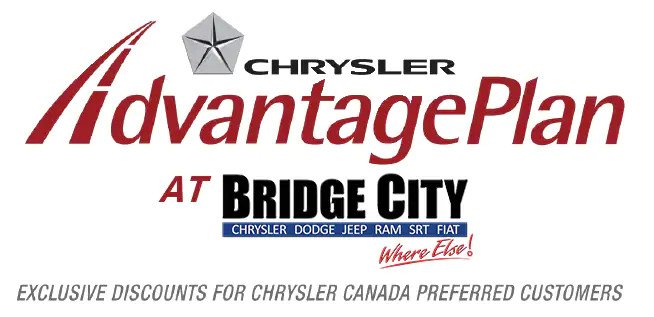 Pay what our employees pay - Do you qualify?

Fiat Chrysler Automobiles (FCA) works closely with many businesses across Canada. These businesses have chosen FCA to help provide a fleet of vehicles they use to help run their everyday business activities. As a thank you, Bridge City Chrysler is offering employees of these businesses the ability to purchase NEW FCA vehicles for only $25.00 over dealer cost. This is what our employees at Bridge City Chrysler pay - and you benefit from this special offer as well!

This offer is a great savings opportunity for eligible members and is over and above current retail incentives available at the time of sale!

Do you work for one of the businesses listed here? If so, GREAT! You pay what we pay!

If you have any questions, please reach out to your Sales Consultant at Bridge City Chrysler or fill out the contact form below and someone will get in touch with you.
Sales Hours
(403) 328-3325
| | |
| --- | --- |
| Monday | 9:00 am - 6:00 pm |
| Tuesday | 9:00 am - 6:00 pm |
| Wednesday | 9:00 am - 6:00 pm |
| Thursday | 9:00 am - 6:00 pm |
| Friday | 9:00 am - 6:00 pm |
| Saturday | 9:00 am - 5:00 pm |
| Sunday | Closed |
Service Hours
(403) 317-4482
| | |
| --- | --- |
| Monday | 7:00 am - 5:00 pm |
| Tuesday | 7:00 am - 5:00 pm |
| Wednesday | 7:00 am - 5:00 pm |
| Thursday | 7:00 am - 5:00 pm |
| Friday | 7:00 am - 5:00 pm |
| Saturday | 9:00 am - 5:00 pm |
| Sunday | Closed |
Parts Hours
(403) 380-2233
| | |
| --- | --- |
| Monday | 7:00 am - 5:00 pm |
| Tuesday | 7:00 am - 5:00 pm |
| Wednesday | 7:00 am - 5:00 pm |
| Thursday | 7:00 am - 5:00 pm |
| Friday | 7:00 am - 5:00 pm |
| Saturday | 9:00 am - 5:00 pm |
| Sunday | Closed |